2016 | OriginalPaper | Chapter
What Is Europe?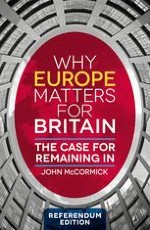 Author: John McCormick
Publisher: Macmillan Education UK
Log in
The debate about Europe suffers from a single, acute handicap: most people know little about how the European Union works, and most of the rest cannot agree on what it is or what it might become. There are many opinions but few hard certainties, and the result has been a turmoil of confusion and misrepresentation, begging the obvious question of how we can have an informed or productive exchange without understanding just what we are discussing. It is much like the Indian parable of the group of blind people who try to determine what an elephant looks like by touching it and then comparing notes; how we understand the EU depends on how we look at it, how we define its work, and our points of comparison. Even those best placed to help us understand - the university scholars who base their careers on studying and explaining the EU - have stumbled. In their well-meaning efforts to pin down its character, they have offered such uncongenial labels as multi-level governance, consociationalism and quasi-federal polity, to each of which other scholars have been quick to offer strings of objections.