2012 | OriginalPaper | Chapter
What is Good Regulation?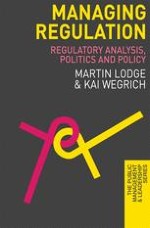 Authors: Martin Lodge, Kai Wegrich
Publisher: Macmillan Education UK
Log in
The various regulatory debates confronting Amnesia have created considerable unhappiness with the state of regulation in the country. It is said that Amnesia's regulatory state is in crisis. This general discontent has encouraged the Amnesian government to ask for one concluding meeting with you. It wants to know how to ensure 'good regulation' in the future. What key dimensions should underline 'good regulation'? What strategies should be used to achieve 'good regulation'? What are the key themes that will continue to influence the regulatory state in Amnesia (and elsewhere)?