2017 | OriginalPaper | Chapter
What is my own work?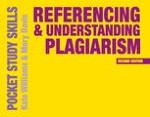 Authors: Kate Williams, Mary Davis
Publisher: Macmillan Education UK
Log in
Many courses require students to sign a sheet saying the work is their own. You must have ticked dozens of boxes on websites to say you've read the terms and conditions (really?). But what are you signing up to when you sign: 'This is my work'? We are talking about WORK here, not just about words. Parts 1 and 2 describe some of the work involved in writing good assignments: identifying sources, taking notes, linking your sources with your points and arguments … for starters. Then there's the work of turning your ideas into words and the work of putting the whole thing together as a cogent piece of text.