2017 | OriginalPaper | Chapter
What is Political about Political Communication?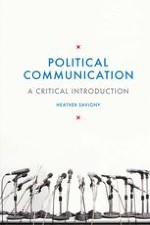 Author: Heather Savigny
Publisher: Macmillan Education UK
Log in
In 2011, an image of a female protestor being beaten by military police in Egypt went viral and sent shockwaves around the world. In 2014, climate change protest marches took place in over 100 cities around the world. In June of the same year, French President François Hollande made the headlines over his extra-marital affair. These are all forms of communication about politics, and as I began to discuss in the previous chapter, there is also a political component in their communication. On one level, we could argue that to engage in protest is a form of politics and so in that context we might consider that protestors are managing to communicate dissatisfaction to elites. However, media are not passive in this process and they frame what we see in particular ways, which serve to reinforce particular world views and narratives. Media can add emphasis to a debate or issue; they an ignore it, so that it does not get discussed; or they can frame it as news worthy but insignificant. The way that media frame what we know about the world out there is densely political. It is political in the sense that it shapes what is and isnt possible for us to think about, to know, and so it ultimately frames and contextualizes for us how power is distributed in society.