2015 | OriginalPaper | Chapter
What is Political Theory?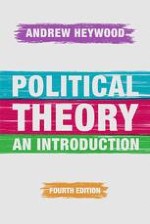 Author: Andrew Heywood
Publisher: Macmillan Education UK
Log in
It would be misleading, indeed patently foolish, to suggest that political conflict reflects nothing more than confusion in the words we use. It is certainly true that enemies often argue, fight and even go to war, both claiming to be defending liberty or upholding democracy, or that justice is on our side. The intervention of some Great Lexicographer descending from the skies to demand that the parties to the dispute define their terms before they proceed, stating precisely what each means by liberty, democracy and justice, would surely be to no avail. The argument, fight or war would take place anyway. Politics, in other words, can never be reduced to mere semantics. And yet there is also a sense in which sloppiness in the use of language may help to protect ignorance and preserve misunderstanding. Language is both a tool with which we think and a means by which we communicate with others. If the language we use is confused or poorly understood, it is not only difficult to express our views and opinions with any degree of accuracy but it is also impossible to know the contents of our own minds.