2004 | OriginalPaper | Chapter
What is 'Postmodernism'?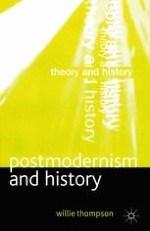 Author: Willie Thompson
Publisher: Macmillan Education UK
Log in
What ispostmodernism — and how does it relate to historical study and practice? Matt Perry's Marxism and History1 contains a well-argued and fairly extensive section on the concept, and it is a reasonable bet that other volumes in this series will give it more than a passing reference. The initial point to note is that the term 'postmodernism' means several, or indeed many, different things — the concept is what would once have been referred to as a 'portmanteau word'. In this opening chapter we will first of all try to disentangle the most important of these meanings, establish the historical context in which the concept has evolved and establish, if possible, how the different meanings connect to one another. The following chapters will then attempt to assess how postmodernism has influenced historiographical practice.