2011 | OriginalPaper | Chapter
What is rational choice theory?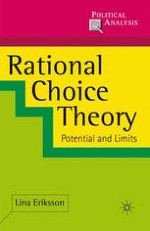 Author: Lina Eriksson
Publisher: Macmillan Education UK
Log in
RC theorists and critics alike disagree about what RC theory is, and their disagreement makes the debate between them unnecessarily complicated. To clarify the nature of the theory is therefore a necessary first step towards making some sense of the debate about the potential and limits of the theory. An approach, as noted in the previous chapter, is a way of dealing with research questions: it is a way of formulating them, an idea of the general structure of appropriate answers and an outline of how to go about finding such answers. An approach is based on a set of assumptions and general ideas — what I call a framework. A framework can include different sorts of elements; some are assumptions that are true or false, other elements have a different status. Everyone agrees that the basis for the RC approach — the framework — concerns (at least) the idea of rationality. But — and here is one main cause of the confusion about the RC approach — there are different versions of this framework, all of which are advocated by some as the one and only correct basis for the RC approach. To specify and characterize fully all the elements relevant for the RC approach is neither possible nor necessary here. For the purposes of this book I will just concentrate on what seems most relevant for evaluating the RC approach with respect to problems concerning explanations and predictions of human behaviour.