2008 | OriginalPaper | Chapter
What is Reflective Practice?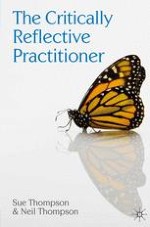 Authors: Sue Thompson, Neil Thompson
Publisher: Macmillan Education UK
Log in
When good ideas become very popular, there is a danger that they also become oversimplified and used in a superficial way, thereby failing to do justice to the complexities involved. And there are lots of complexities involved. This is partly because reflective practice has grown up in different professional disciplines and contexts, each with their own subtle differences and nuances. As Moon (1999) comments:
The work on reflection in the context of practice — reflective practice — originated mainly in the professions of teaching and nursing, but there is little integration of these two sources, and relatively few professional educators have crossed boundaries, even if they have been attempting to develop similar attributes in their novices or their trained professionals. It is as if reflection has been viewed through a series of narrow frames of reference, with little overlap.

(pp. vii–viii)
To this we can add a significant body of literature relating to reflective practice in social work and a growing literature on how reflective practice can also be seen to apply in a management context. Our aim here, though, is not to explore these differences, but rather to focus on the commonalities: what are the key concepts and themes that help us make sense of reflective practice and the philosophy underpinning it?