2012 | OriginalPaper | Chapter
What is Regulation?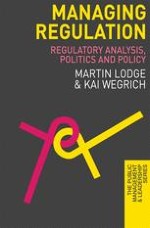 Authors: Martin Lodge, Kai Wegrich
Publisher: Macmillan Education UK
Log in
Business associations in many countries complain that the 'regulatory burden is too high'. Regulation is seen as an obstacle to economic growth, because regulation is a cost factor and because bureaucratic regulation impedes innovation. The Amnesian business association is seeking advice from consultancies to substantiate this claim.What kind of examples from the world of regulation should these consultancies list to justify the claim that the 'regulatory burden' is too high?