2014 | OriginalPaper | Chapter
What is resilience?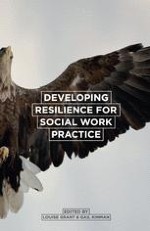 Authors: Louise Grant, Gail Kinman
Publisher: Macmillan Education UK
Log in
Much has been written about stress and burnout in social work and ways in which this can be managed.Although it is acknowledged that social workers need to be resilient to protect their wellbeing in an increasingly stressful profession, there is little guidance to help them accomplish this. This chapter introduces the concept of resilience and considers its relevance to the social work context. The advantages of adopting a strengths-focused perspective (that aims to identify the factors underpinning human fulfilment) over a problem-focused approach (that tends to dwell on the 'dark side' of organizational life) are considered. It is argued that resilience can explain why some practitioners who encounter profound difficulties not only fail to burn out, but frequently gain strength from their experiences.