2013 | OriginalPaper | Chapter
What is Scottish Politics?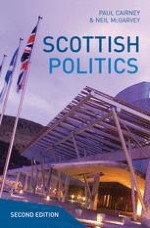 Authors: Paul Cairney, Neil McGarvey
Publisher: Macmillan Education UK
Log in
The election of the Scottish National Party (SNP) majority administration in 2011 was a watershed moment in Scottish politics and pushed the constitutional issue to the fore. It is likely to earn its place in the Scottish history books regardless of what follows. It may be marked as the beginning of the end of Scotland's membership of the United Kingdom, or the end of the beginning of devolution. It was historic in many ways — it was Scotland's first majority administration; it was the first time a majority on the floor of the Scottish Parliament favoured independence; and it could signal what Hassan and Shaw (2012) term the end of 'Labour Scotland'. It undoubtedly reconfigured both external and internal understandings of 'Scottish Politics'.