2014 | OriginalPaper | Chapter
What is the Company and is Company Law Important?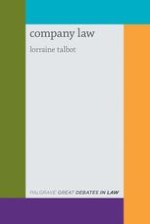 Author: Professor of Law Lorraine Talbot
Publisher: Macmillan Education UK
Log in
One of the central divisions in the debate over 'what is the company' is between those that say the company is a hierarchical organisation headed by a managerial team (the board of directors) and those that argue that it is an alternative expression of a market of investors. Within the latter group there are various conceptions of the 'entityless-ness' of the company. Some view the company as being some form of investor-orientated organisation while others deny that it exists as any entity at all. The latter theorists are largely drawn from financial economics and construct various economic models of the company (or firm, as they prefer to refer to all business forms). In constructing a model of the company on these lines, they are able to retain the notion of the contracting and bargaining individual. This ideal, rational, self-maximising contractor is lost as a possible actor in the hierarchical entity model, where actors perform according to their role and are subject to the authority of management.