2015 | OriginalPaper | Chapter
What is the European Union?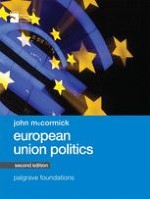 Author: John McCormick
Publisher: Macmillan Education UK
Log in
The beginning of wisdom, runs a Chinese proverb, is to call things by their right names. But this is no easy task with the EU, which fits few of our conventional ideas about the way in which politics and government function. In our attempts to understand how large-scale political communities are organized, we have only two mainstream points of reference: states and international organizations. But while the EU has some of the qualities of both, it is not entirely either.