2016 | OriginalPaper | Chapter
What is the role of a bureaucracy?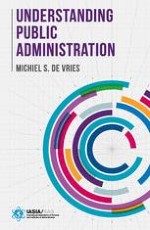 Author: Michiel S. de Vries
Publisher: Macmillan Education UK
Log in
The external structure of government, as described in the previous chapter, sets the context for the internal structure of government, which is the topic of this chapter. Depending on the institutionalization of central, regional and local government and their intergovernmental relations, these levels vary in terms of how they are organized, or as some would argue, bureaucratized, while others would say capacitated. This chapter addresses the organization of the public sector, with a special focus on the merits of bureaucracy as a key theme in Public Administration.