2010 | OriginalPaper | Chapter
What kind of PhD?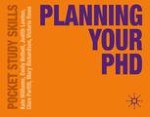 Authors: Kate Williams, Emily Bethell, Judith Lawton, Clare Parfitt, Mary Richardson, Victoria Rowe
Publisher: Macmillan Education UK
Log in
The PhD ('Doctor of Philosophy' whatever your subject) is traditionally a minimum 3-year period of full time study, by the end of which you will have produced an extended piece of writing, typically in the range of 60,000–100,000 words. This 'thesis' is an apprentice piece that demonstrates your capabilities as a researcher at the highest level. It will present new knowledge and demonstrate an important contribution to your subject area. Examiners who are highly qualified in your field (usually one internal, one external) assess the thesis and, if it is acceptable, and you are able to defend it in an oral examination (a viva), you are awarded a PhD.