2016 | OriginalPaper | Chapter
What motivates government officials?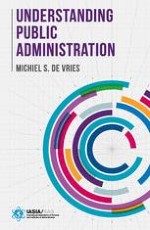 Author: Michiel S. de Vries
Publisher: Macmillan Education UK
Log in
This chapter addresses what goes on inside the minds of public officials. What motivates them to work for government and what do they strive for within the context described in the previous chapters? Are they personally motivated to provide collective goods in an effective and efficient manner, in order to contribute to the basic function of government and to solve collective problems, and are they personally engaged to help citizens and make their society a better place? Or is their work for government motivated by less noble factors, such as earning a decent salary in exchange for as little effort as possible, and an opportunity to establish a swift career, thus increasing their income, status and power? Or do they see their function in the public sector as a means to further their personal interest, resulting in an abuse of their position with corruption and fraud as the consequence?