2017 | OriginalPaper | Chapter
1. What's Biting Us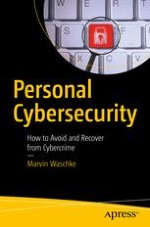 Who and What Does CybercrimeCybercrime Hurt?
Author: Marvin Waschke
Publisher: Apress
Log in
Abstract
Cyberspace has become a dangerous place. Cybercrime danger has grown during the last two decades. Computers used to be the domain of scientists and engineers with pocket protectors and too many ballpoint pens, not sophisticated criminals and menacing bullies. Almost every computer is connected to every other computer in the world via the Internet, offering unprecedented opportunities for communications and simultaneous opportunities for remote exploitation. This chapter summarizes the cybercrime problem, which ranges from annoying social media trolls to well-planned corporate attacks that strike tens of millions of victims.