2016 | OriginalPaper | Chapter
What's British about British Politics?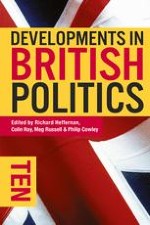 Author: Andrew Gamble
Publisher: Macmillan Education UK
Log in
Britain is a settled polity. It has been a full democracy for almost 100 years, and it has representative institutions and a continuous political tradition stretching back to the seventeenth century. During that time its external fortunes have risen and fallen but it has not experienced either internal revolution or external invasion and occupation. Many have argued that it is this experience that has made Britain special, the essential context for understanding its politics, and its success in managing orderly and peaceful change. Britain is also a troubled polity. The unity of the UK was first broken when Ireland separated in 1921, and in recent decades it has been threatened again by the conflict in Northern Ireland and by the rise of the Scottish National Party (SNP) to dominate the politics of Scotland. The SNP only narrowly lost the referendum on independence in September 2014, and the issue has not been closed. Britain held another referendum on its future within the European Union (EU), in June 2016, with public opinion divided on the merits of leaving or remaining. Britain's external standing and global reach has declined sharply in the last hundred years as its empire collapsed and its industrial pre-eminence receded.