2017 | OriginalPaper | Chapter
What's their point?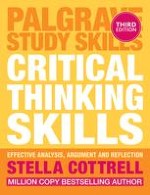 Identifying arguments
Author: Stella Cottrell
Publisher: Macmillan Education UK
Log in
Critical thinking focuses on 'argument'. This chapter looks at what is meant by 'argument' within the context of critical thinking, and how to recognise its key features. If you are able to detect the main argument, you are better able to direct your attention to the salient, or most appropriate, material. This, in turn, enables you to direct your reading to the most relevant material, and to save time by reading more efficiently. There are many short passages used in this chapter to help you practise critical thinking skills. It is worth noting that the activities may ask you to make judgements about the arguments, but none ask whether you agree with them. You may not agree with the reasons or conclusions given. However, critical thinking requires an evaluation of arguments in terms of the merit of their formal features, such as the quality of the reasoning, and not whether these support our own opinions.