2019 | OriginalPaper | Chapter
What Should I Be Reading?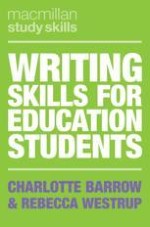 Authors: Charlotte Barrow, Dr. Rebecca Westrup
Publisher: Macmillan Education UK
Log in
It hopefully won't come as too much of a shock to you that a significant amount of your time spent studying your Education degree will involve reading. Traditionally, students referred to themselves as 'reading for a degree' – for example, 'I'm reading History' – or they might have been asked, 'What are you reading at university?' which would have meant, 'What are you studying?' While we no longer use this kind of language to refer to our studies, this once commonly used phrase is indicative of the fact that an enormous amount of time needs to be dedicated to reading. In fact, it is probably fair to say that this is the most essential component of studying Education at university. This means that you need to be prepared and well-informed about how to plan and manage your reading, so that you can do this most effectively.