2010 | OriginalPaper | Chapter
What was Restored in 1660?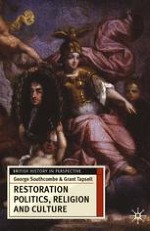 Authors: George Southcombe, Grant Tapsell
Publisher: Macmillan Education UK
Log in
In 1644, the poet and polemicist John Milton wrote of how he saw in his 'mind a noble and puissant Nation rousing herself like a strong man after sleep, and shaking her invincible locks'.1 The civil war had opened up opportunities for England to awaken and fulfil God's purpose. Milton would later write defending the execution of Charles I, asserting the legitimacy of an act which removed the country from the bondage of tyranny. But in 1660, the hopes which had been raised to dizzying heights in 1644 lay broken, and Milton did not seek to conceal his contempt for most of the English people. Overtaken by a 'deluge of … epidemic madness' they threatened to bring England to 'a precipice of destruction'. Even the few for whom he retained any hope seemed to be 'chusing them a captain back for Egypt'.2 He wrote these words in a pamphlet designed to propose a remedy, to halt a process which his own imagery suggested was inexorable. He failed. The captain he feared, Charles II, was restored to the thrones of England, Scotland, and Ireland soon after he published.