2003 | OriginalPaper | Chapter
What was the cultural legacy of imperialism?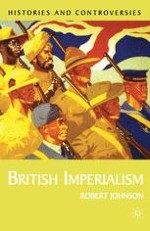 Author: Robert Johnson
Publisher: Macmillan Education UK
Log in
In recent years there has been renewed interest in the relation-ship between culture and imperialism, part of a wider post-mod-ernist approach to the connections between language, imagery and power. Whilst the Orientalist debate has dominated the field, culture is undoubtedly a feature of the imperialist landscape that stretches far beyond the narrow horizons of language and power. Culture helped to define British imperialism as distinct from other European versions. It was an agency for propagating support for the imperialist enterprise. It also created idealised notions of the British themselves. Moreover, it raised the concept of Empire beyond trade and conquest to a realm of adventure, chivalric duty and sacrifice. The culture of imperialism promoted 'Britishness' but also embraced aspects of the civilisations it came across. Chinese, Indian and Middle Eastern designs became part of the British imperial culture. There was a cultural exchange on a global scale, often accompanied by greater population mobility and migration. This exchange is visible in all forms of media, from art to film. But cultural aspects of imperialism also affected education, youth movements, religion and sport, both for the British and for the peoples of the Empire. Many regard this legacy as an unhappy one, but the impact varied from place to place. Frequently it was a case that people adopted what they wanted from the Empire, and rejected the rest: it is more difficult to find where British culture was imposed successfully.