1992 | OriginalPaper | Chapter
What Were the Crusades?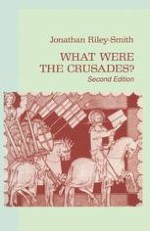 Author: Jonathan Riley-Smith
Publisher: Macmillan Education UK
Log in
The crusading movement was one of the great forces in our history. Fought on a vast scale, in terms of both geography and the numbers of men involved, the crusades dominated the thoughts and feelings of western Europeans between 1095 and 1500 so profoundly that there was scarcely a writer on contemporary affairs who did not at some point refer to one of them or to the fate of the states established in their wake on the eastern shores of the Mediterranean, in Spain and along the Baltic coast. They still had some appeal as late as the eighteenth century. Even today it is hard to be indifferent to their history: they were launched in support of a cause which can be portrayed with equal force as the most noble and the most ignoble, and over the centuries men have turned to them for inspiration or as an object lesson in human corruptibility. In modern times the French have seen them as the first of their nation's colonial enterprises; in Palestine the British in 1917 and the Israelis in the last few decades have felt themselves to be the inheritors of their traditions; and a movement in the modern Christian Churches, consisting of the theologians of Liberation and the activists of the new Left, expresses, without seeming to realise the fact, some of the ideas of the crusading apologists. For good or ill, the crusades introduced new forces into the politics of the eastern Mediterranean region which were to last for over 600 years and they helped to foster elements in Latin Christianity which are now seen as integral to it.