2010 | OriginalPaper | Chapter
What were the Main Forces for Change and Continuity in the Post-Revolutionary World, 1688–1714?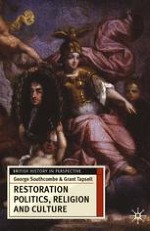 Authors: George Southcombe, Grant Tapsell
Publisher: Macmillan Education UK
Log in
Viewing the immensely volatile European scene of the 1830s and 1840s from the safety of London, by then the hub of a worldwide empire, Thomas Babington Macaulay — the most popular historian of the age — was unshakeable in his belief that 'It is because we had a preserving revolution in the seventeenth century that we had not a destroying revolution in the nineteenth'.1 The British could rejoice that 1688 had seen a 'sensible revolution', one that had clipped the wings of over-ambitious rulers and established the basic framework for constitutional monarchy, representative government, and economic prosperity that led ultimately to the high noon of British imperial dominance in the Victorian era.2 Several generations of scholars have since largely destroyed this complacent view and established beyond doubt that William II and III's position in his new kingdoms was actually vulnerable until at least 1692, when the threat of imminent French invasion was averted by the great naval victory at La Hogue. Even after that William's monarchy was beset by problems right through to his death in 1702, a year after the demise of James VII and II and the bellicose recognition by France of James Francis Edward — the 'Old Pretender' — as King James VIII and III.