2003 | OriginalPaper | Chapter
What were the motives and effects of colonisation and migration?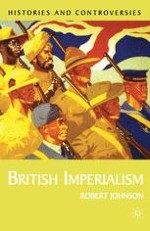 Author: Robert Johnson
Publisher: Macmillan Education UK
Log in
The British Empire emerged over a period of several hundred years and its administration was frequently adapted to suit local circumstances. This resulted in a great variety in the patterns of British rule. India was ruled as a military despotism and commercial enterprise, tempered by philanthropic ideas developed and adapted from English liberalism and radicalism. African and Chinese coastal stations were little more than commercial entrepôts, or bases for the Royal Navy. However, the colonies of white settlement enjoyed a special status. They were regarded as part of a 'greater Britain', and settlers were the agents of British civilisation who took with them British tastes and values. Marc Ferro wrote: 'colonization was the 'power' of a people to "reproduce" itself in different spaces'.1 It was the emphasis on being able to dominate, and to retain a distinct identity that made colonisation distinct from immigration.