2018 | OriginalPaper | Chapter
What will make your essay original?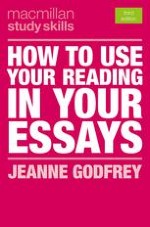 Author: Jeanne Godfrey
Publisher: Macmillan Education UK
Log in
The originality of your essay will depend not just on which sources or how many you use, but on how and why you use them. Two essays addressing the same title and using the same sources can still differ greatly because of the way each one has used the source material to develop and reach a unique perspective and conclusion.As an example of thinking about source types before searching for material, the student decided to look first for textbooks that would give definitions of business ethics. They also realised that they would need some relevant journal articles by key authors for views on the importance of business ethics.