2016 | OriginalPaper | Chapter
When do public decisions result in optimal outcomes?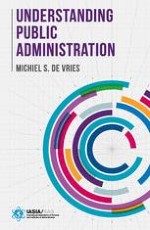 Author: Michiel S. de Vries
Publisher: Macmillan Education UK
Log in
Understanding the internal processes of government is especially important because governments make decisions that affect all of us, and these processes partly explain why public decisions are made in the way they are. A classic example is the decision by King Priamos of Troy to bring in the wooden horse that was left behind by the Greeks, who had seemingly retreated after years of siege. Priamos might have had good intentions, i.e. acquiring a beautiful trophy that would make its citizens proud of their victory, but it proved to be a devastating decision for the city; the Trojan horse was filled with Greek soldiers who conquered Troy during the night. Was this decision made due to the fact that Priamos was king and the government structure allowed him to make the decision on his own? Was the government organization perhaps structured in such a way that sound guidance from his advisors could not reach him, or did it reach him but he ignored it? Was it perhaps due to a Trojan culture in which power distance, masculinity, collectivism, uncertainty proneness and short-term strategy dominated? Or was it something inside the head of this king — personal pride, elation, and disregarding the public interest — that made him decide as he did?