1992 | OriginalPaper | Chapter
When Were the Crusades?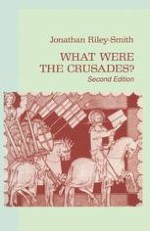 Author: Jonathan Riley-Smith
Publisher: Macmillan Education UK
Log in
We are now coming to the end of our enquiry and have reached the stage at which we can make a definition. A crusade was a manifestation of the Christian Holy War, fought against the infidels in the East, in Spain and in Germany and against heretics, schismatics and Christian lay opponents of the Church for the recovery of property or in defence. Its cause was just in the traditional sense, but it was related to the needs of all Christendom or the Church, rather than to those of a particular nation or region, and it was because it was Christ's own enterprise that it was not merely justifiable but was positively holy. Legitimate authorisation was given to it by the pope as head of Christendom and representative of Christ, rather than by a temporal ruler. At least some of the participants took a vow which subordinated them to the Church and assured some papal control over them in matters other than the actual waging of war. A crusade was regarded as a form of pilgrimage and pilgrimage terminology was often used of the crusaders and their campaigns.