2010 | OriginalPaper | Chapter
Where Do I Start?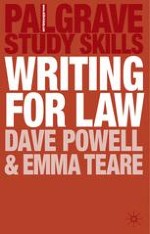 Authors: Dave Powell, Emma Teare
Publisher: Macmillan Education UK
Log in
You have been given an essay title and have been instructed to submit the essay by a specific date. What do you do? Apart from putting it off, which we will come back to, a common reaction is panic. What am I supposed to do? Although you may have been used to writing essays for school or college you have probably been given considerable guidance on them and you may have been able to submit drafts for correction before submitting the final piece of work. On a university law course this is unlikely to happen - the first submission is the real one. You will also have been given a word limit, typically 1500 to 2500 words, and have been told it must not be exceeded. This frequently produces one of two responses: How do I find that much to say about what appears to be a very simple question? or How do I fit it all in?