2017 | OriginalPaper | Chapter
Where's the proof?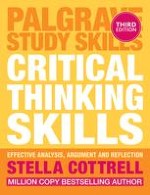 Finding and evaluating sources of evidence
Author: Stella Cottrell
Publisher: Macmillan Education UK
Log in
We do not always need to be an expert in a subject to evaluate an argument. In many instances, we will still be able to evaluate whether the reasons support the conclusion and whether the line of reasoning is ordered in a logical way. However, in order to evaluate many arguments, we have to know whether the evidence used to support the reasoning is true. This means that we need to go to other sources, either people or material resources, to check the facts that underlie the reasons given. Evidence may be convincing in one context, such as in everyday conversation or a magazine, but not in others, such as in a court of law or for academic or professional writing. In the latter cases, it is expected that greater efforts are made to check that evidence is all that it appears to be.