2017 | OriginalPaper | Chapter
Who are the Audience(s)?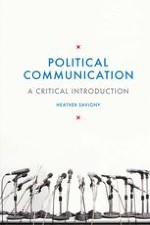 Author: Heather Savigny
Publisher: Macmillan Education UK
Log in
If there was no audience to read, listen, watch and consume media, then media would struggle to function or, indeed, to exist. This claim makes audiences central to the process of political communication. Not only in the communication of formal politics, the actions of political elites (as discussed in Chapter 4), but also in the sense that the existence of an audience and its relations to media implies a negotiated political relationship. Communication relies on a receiver; and so media rely on audiences. In order to make sense of the way power may be distributed and operates we need, therefore, to also understand what is meant by the term 'audience'. Indeed, this is an ontological question as we need to begin by asking, is there such a thing as 'the' audience? To suggest there is a singular audience assumes that there is an homogenous group that exists 'out there'. We might, therefore, think that there are multiple audiences with differing interpretations of the same content. Moreover, these multiple audiences may use different media platforms and bring different beliefs and behaviours to the media content that they consume. This matters because if media rely on audiences, then surely media will need to respond to audience demand. It is often assumed that audiences comprise the masses (again implying a homogeneity) but if media audiences are elites, what does this mean for the masses?