2011 | OriginalPaper | Chapter
Who Makes Policy?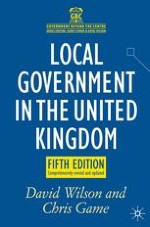 Authors: David Wilson, Chris Game
Publisher: Macmillan Education UK
Log in
Chapters 14 to 16 examined three of the key elements in a council's policymaking process: elected councillors, the officers who advise them, and the political party groups of which most of them are members. But these were essentially static examinations, or snapshots. This chapter brings them together, focusing on their collective raisons d'être: the actual determination of policy. It is a process that has been transformed structurally by the advent of political executives held to account by an overview and scrutiny regime. Executive members are now held personally responsible and accountable for decisions relating to the management and delivery of services in a wholly different way from committee chairs under the previous system.