1992 | Chapter
Who Were the Crusaders?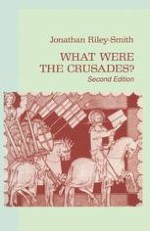 Author: Jonathan Riley-Smith
Publisher: Macmillan Education UK
Log in
There could be no crusade without crusaders and what made a man a crusader was the taking of a vow. This vow was introduced by Pope Urban II when, at Clermont, he asked his audience to make promises and told those who answered his call to sew crosses on their clothes as a public sign of their commitment. This was a new element in the Christian Holy War, although it was the product of a train of thought already in his mind before November 1095. At Piacenza in the previous March he had replied to the appeal from the Greeks by urging men to take an oath to help God and the Byzantine emperor against the pagans. Of course, Christian vows had had a long history and for a long time had been viewed as creating legally binding obligations, but over the next century and a half they were to be treated exhaustively by canon lawyers. They came to be defined as deliberate commitments made to God to do or not to do certain acts. They could be simple, made with no formalities and therefore not enforceable as far as the Church was concerned, or solemn, publicly taken, expressed in the present tense and legally binding.