2016 | OriginalPaper | Chapter
Who works in government?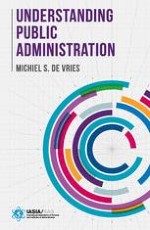 Author: Michiel S. de Vries
Publisher: Macmillan Education UK
Log in
Like all organizations, ranks at all levels and in all areas of public bureaucracies have to be filled. Individuals need to be recruited, socialized and trained, gain experience and make careers, and they have to be managed in order to make the apparatus function well. Working in the public sector is the topic of this chapter. This chapter argues that despite the dominance of bureaucracy as the main organizational model, the way it actually functions varies all over the world. And within the public sector, working conditions, tasks and functions, and the requisite knowledge, skills and attitudes vary depending on where one is positioned in the organization.