2011 | OriginalPaper | Chapter
Why and How Are Regional and Local Economies Changing?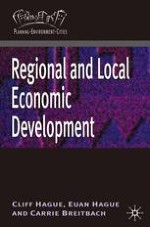 Authors: Cliff Hague, Euan Hague, Carrie Breitbach
Publisher: Macmillan Education UK
Log in
Economies have changed and are continuing to change. This is why there is now so much emphasis on regional and local economic development. For most of the world until the closing decades of the twentieth century, a region's economic fate seemed to depend overwhelmingly on natural resources. Coal-mining towns grew on coalfields. Steel mills were built near iron-ore reserves or at places where vast quantities of coal and iron ore could be marshalled. Ports and shipbuilding grew around natural harbours. Market towns prospered serving their agricultural hinterlands. In the humid American south and in Europe's African, Asian and South American colonies there were plantations. Productivity differences between locations, together with protectionist taxation policies against imported goods, sustained this global pattern of production well into the twentieth century.