2010 | OriginalPaper | Chapter
Why Are They Different?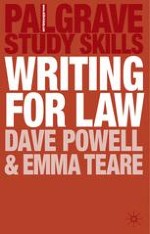 Authors: Dave Powell, Emma Teare
Publisher: Macmillan Education UK
Log in
The answer to the question of why presentations are different involves examining the function of presentations: what are they there for? One answer is that it is difficult to call yourself a lawyer if you cannot stand up and speak. Go into any court and you will see that this is what the lawyers are doing - so one function of a presentation is presentation itself. You may think that you are not going into advocacy, either as a barrister or a solicitor, and so you do not need it. However, whatever path you decide to follow in your subsequent career you are likely to need to present in some form or other, to a client, a class or colleagues.