2014 | OriginalPaper | Chapter
Why bother making notes?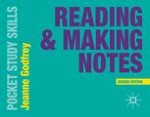 Author: Jeanne Godfrey
Publisher: Macmillan Education UK
Log in
In Part 1 we looked at how university study requires active learning, and how making any type of notes will help you to activate your thought processes. In terms of making notes from reading, the mental and physical activity of noting down thoughts and questionsbefore you read, making some noteswhile you read (although you may prefer not to take any notes while reading) and then adding further notes, comments and reflectionswhen you have finished reading will all help you to engage critically with the texts.