2010 | OriginalPaper | Chapter
Why did James VII and II Lose his Thrones?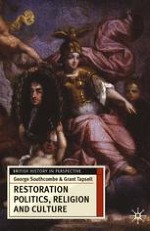 Authors: George Southcombe, Grant Tapsell
Publisher: Macmillan Education UK
Log in
Chapter 3 began by analysing a print published in early 1681 illustrating dire predictions for the imminent future. This one takes as its starting point a print produced in early 1689 that reflected on the recent past. There is a clear overlap of interpretative frameworks between 'A Prospect of a Popish Successor' (Figure 4) and 'England's Memorial' (Figure 7). The first predicted 'popish villany'; the latter rejoiced in its defeat. Church buildings representing the whole Church of England are prominent in both prints. In the first 'tantivy' clergy are shown riding the church towards Rome, in the second the anthropomorphised building tells us that in clear sight of the eye of divine providence 'I breath[e] again'. Armed Catholic priests are closely associated with devils by both artists, and in both compositions the centre refers to the religious character of the state. In 1681, anxious Whigs dwelt on two closely connected monstrous figures representative of a Catholic future, the violent Irish Catholic devil 'Mack', and the deceitful clerical 'Church Papist'; in 1689, William of Orange's propagandist presented the prince — punningly depicted as an orange tree — as the guarantor of a Protestant state's security.