2016 | OriginalPaper | Chapter
Why do governments exist and why study them?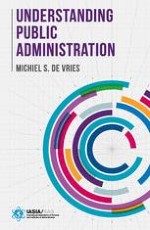 Author: Michiel S. de Vries
Publisher: Macmillan Education UK
Log in
This chapter addresses the main reasons for the existence of governments. The role of the public sector in society is a common subject of discussion and criticism, inspiring debates on topics including taxation, inefficient public service delivery, ineffective public policies and irrational decision making. This leads to the question of why governments exist in the first place. Why are people willing to pay taxes, comply with the rules as determined by their government, and even work for the government? What is it that allows a group of people to have the authority to govern a country or nation and to exercise political direction and control over the actions of the members, citizens or inhabitants of communities and societies? (cf. definition of 'government', Merriam-Webster dictionary).