2017 | OriginalPaper | Chapter
Why does Political Communication Matter?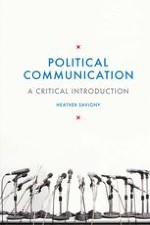 Author: Heather Savigny
Publisher: Macmillan Education UK
Log in
According to liberal theory, an informed citizenry is necessary for the healthy functioning of a democracy, so we need to be able to read the media and the politics which are being communicated in order to take part in democracy, to know what our rights are, and to be able to hold to account those who rule in society. To be able to do this, we need to be politically and media literate. Literacy is therefore central in making sense of why political communication matters. If politics is communicated to us each time we engage in media, we make choices about the degrees of engagement or passivity we display towards those mediated messages; while the extent to which we engage (or not) may be on the surface an autonomous choice, the aim of this chapter is to situate the choices that we as individuals make in a wider social and political context. Our knowledge of the world is predicated in the language that we use, and so the way language structures our experience is discussed, and then through reflection on ideology we can start to unpack how dominant views of the world are communicated to us. In becoming literate, we need to also think about the codes and messages that are communicated to us, and the chapter follows this discussion with a series of political questions that encourage us to think about how we read political messages; this also involves a reflection on the language that we use. The discussion thus moves to the wider ideological and discursive context in which much of Western political communication is situated: namely a neoliberal, capitalist and patriarchal context. Finally, the chapter argues that when we analyse political communication we also need to be sure we are as aware of what is not being communicated as what is being communicated.