2016 | OriginalPaper | Chapter
Why Does Urban Resilience Matter?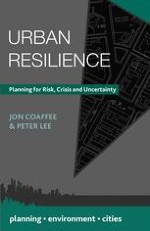 Authors: Jon Coaffee, Peter Lee
Publisher: Macmillan Education UK
Log in
This century, more than any other, is the century of the city, where rapid urbanisation and greater global connectedness present unprecedented urban challenges. Such increased urbanisation also concentrates risk in cities making them increasingly vulnerable to an array of shocks and stresses. Under such circumstances, city managers are increasingly having to plan for risk, crisis and uncertainty: they have to enhance urban resilience. In this endeavour, urban and regional planning has a central role to play in defining urban resilience, addressing underlying risk factors and building resilience to reduce the exposure and vulnerability of people and assets to a range of current and future hazards and threats. Urban resilience provides an operational framework for reducing the multiple risks faced by cities and communities, ensuring there are appropriate levels of resources and capacities to mitigate, prepare for, respond to and recover from a range of shocks and stresses.