2009 | OriginalPaper | Chapter
Why Elections?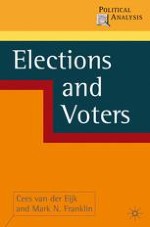 Authors: Cees van der Eijk, Mark N. Franklin
Publisher: Macmillan Education UK
Log in
Elections are everyday events in the modern world. In representative democracies, their purpose is to allow voters to express their political preferences by making choices — between parties and/or between candidates — choices with implications (sometimes clear consequences) for the conduct of government and the policies that a government will pursue. Elections are opportunities for citizens to render a verdict on the past performance of their government and to establish guidelines for future government actions. Yet as soon as we refer to citizens we raise an enormous question mark over the electoral process in democratic countries. How well do ordinary men and women perform in making the sorts of judgements and choices that these lofty goals imply? Many critics of democracy have denied that members of the public have either the knowledge or the perspicacity required for rendering such verdicts or establishing such guidelines. And political scientists who have studied the behavior of voters at election time have sometimes expressed exactly the same doubts. This book is centered on the question of how citizens in democracies go about making the choices that elections call upon them to make. It also tries to assess the extent to which these choices turn out in practice to be good ones, and whether there are institutional arrangements that make it more or less easy for citizens to exercise their democratic judgment.