2005 | OriginalPaper | Chapter
Why Professional Ethics?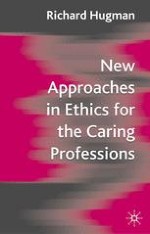 Author: Richard Hugman
Publisher: Macmillan Education UK
Log in
Any discussion of ethics in the caring professions must address the question of the nature of 'profession' in order to give scope to the ensuing analysis. Understanding the social phenomenon of professions and professionalisation has been of interest for a long time and has attracted controversy and debate (Freidson, 1994). The purpose of this discussion is to look specifically at ethics within the caring professions rather than to explore the idea of 'profession' in a more general sense. Nevertheless, some preliminary comments are necessary, to ground our review of the reasons why a concern with ethics in the caring professions is important by briefly reviewing current thinking about their social terrain.