2013 | OriginalPaper | Chapter
Why Study Institutions?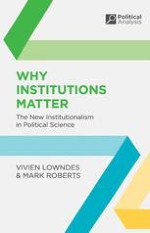 Authors: Vivien Lowndes, Mark Roberts
Publisher: Macmillan Education UK
Log in
Institutions are central to the subject matter of political analysis. Indeed, up until the 1950s, institutionalism was political science, in the sense that the discipline concentrated upon the study of constitutions and the organizational arrangements of representation and government. Political scientists compared executive and legislatures, or parties and electoral systems, across countries and over time. Legal and historical methods dominated, alongside a descriptive idiom and a set of assumptions about what constituted a 'good political system'.