2006 | OriginalPaper | Chapter
Why study management?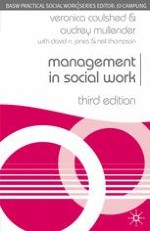 Authors: Veronica Coulshed, Audrey Mullender, David N. Jones, Neil Thompson
Publisher: Macmillan Education UK
Log in
This chapter outlines why it is useful for social workers at every level to know something of the discipline called 'management'. It asserts that all social workers are managers of a kind and debates whether, to look at this the other way round, all managers in social work organisations should have a background in social work practice. Regardless of one's views on this question, it does have to be accepted that today's managers employ not only many skills which are transferable from practice but also others peculiar to the management world, in scope if not always in detail.