2009 | OriginalPaper | Chapter
Women in Control?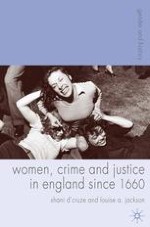 Authors: Shani D'Cruze, Louise A. Jackson
Publisher: Macmillan Education UK
Log in
Women's inequality before the law and hence within the criminal justice system itself was a central focal point of feminist campaigning for much of the nineteenth and twentieth centuries. Arguing for votes for women in 1851, Harriet Taylor and John Stuart Mill depicted women's political subordination as inseparable from their lack of legal status: 'women, whenever tried, are tried by male judges and a male jury'.1 A series of educated women who were active in professional and philanthropic work used their public prominence to call for women's increased presence in the courts and in policing. Elizabeth Blackwell, the first English woman to qualify as a doctor, argued in 1881 that there was a need for a small number of 'superior women' to take up 'positions of power and authority' in 'the police organisation' to work specifically with female offenders.2 As Chapter 1 has shown, women participated in the courts as complainants and witnesses across the Early Modern and modern periods. Yet, until 1919 women were unable to practice as lawyers, or to act as judges, magistrates or jurors. During the nineteenth century it became customary to clear the room of all female observers when cases of rape or indecent assault were tried; it was argued that this was necessary to protect their modesty.