2009 | OriginalPaper | Chapter
Written Assignments 1: What is Expected of You?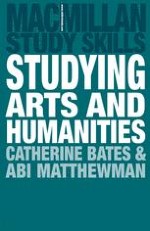 Authors: Catherine Bates, Abi Matthewman
Publisher: Macmillan Education UK
Log in
Even before you arrived at university, you will no doubt have suspected that written assignments would form a large part of your degree. You may discover when you arrive, perhaps with a degree of shock, that you are asked to tackle an essay or a report very early on in your course — possibly in the first few weeks. What is your reaction going to be to such an assignment? Maybe you are ready to get your teeth into a new challenge. Maybe (and I suspect this is true for many new students) you are a little worried at the prospect of writing your first essay. Maybe you feel that you are the only person who doesn't know what they are supposed to be doing. These are entirely natural reactions to have. Most people, when facing a new challenge, experience some degree of nervousness; venturing into the unknown can be a scary move.