1998 | OriginalPaper | Chapter
Yalta 1945: Liberation or Occupation?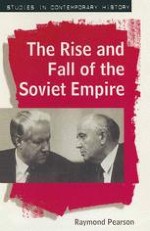 Author: Raymond Pearson
Publisher: Macmillan Education UK
Log in
The year 1989 invites comparison with 1789 as a turning-point in modern European and world history. Accepted as a permanent fixture in an institutionalised 'Cold War' which had lasted over forty years, the Soviet Bloc fell sudden victim first to the decolonisation of its 'outer empire' of eastern Europe and then to the disintegration of its 'inner empire' of the Soviet Union over the cataclysmic years 1989–1991. The 'second 89', to employ a jubilant French headline, constituted an annus mirabilis, a miraculous year patently beyond the capacity of contemporaries, whether participants or bystanders, either to explain historically or comprehend politically. And yet, without contesting the unique dimensions of the extraordinary phenomenon of '1989', it is arguable almost to the point of being incontrovertible that the rise and fall of the Soviet Empire may only be understood fully as essentially the latest — but possibly the last — episode in a confrontation between nationalism and imperialism which has dominated eastern Europe for the last one hundred and fifty years.