2012 | OriginalPaper | Chapter
8. Yea and Nay: Propositional Logic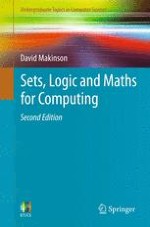 Author: David Makinson
Publisher: Springer London
Log in
Abstract
We have been using logic on every page of this book – in every proof, verification and informal justification. In the first four chapters, we inserted some 'logic boxes'; they gave just enough to be able to follow what was being done. Now we gather the material of these boxes together and develop their principles. Logic thus emerges as both a tool for reasoning and an object for study.
We begin by explaining different ways of approaching the subject and situating the kind of logic that we will be concerned with, then zooming into a detailed account of
classical propositional
logic. The basic topics there will be the
truth-functional connectives
, the family of concepts around
tautological implication
, the availability of
normal forms
and
unique minimalities
for formulae and the use of
semantic decomposition trees
as a shortcut method for testing logical status.