2017 | OriginalPaper | Chapter
4. Your Computer Is a Target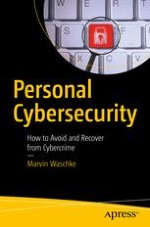 What Are the Shady Hombres After?
Author: Marvin Waschke
Publisher: Apress
Log in
Abstract
Your personal devices are not as tempting to hackers as business and government computer systems. These systems are treasure troves of payment card data for millions of customers, myriads of personnel and health records, and whole libraries of secret innovations, laboriously collected customer data, marketing plans, and business strategies. Some enterprises are willing to pay any ransom to avoid interrupting their business. Each treasure has a price on the black market. Nevertheless, individual smartphones, tablets, laptops, and desktops are still vulnerable. For less skilled hackers, unprotected personal devices are easier and safer targets. What these criminals lack in skill, they make up for in numbers. They can steal and sell your data the same markets used by advanced hackers and they are ready to take over your computer and use its capacity for their own purposes.